My golf travels take me all around the globe and as a former golf professional/operator who has played well more than 3,000 courses, not too much gets past me nor easily impresses me. Surprisingly I knew precious little about the Vancouver Island Golf Trail, so maybe it's been overlooked, but suffice it to say, it shouldn't be and I'm a now a huge fan!
Golf Trails are becoming a dime a dozen so to speak with golf courses anxious to combine with one another to spur play under the moniker of "Trail." Some are indeed pretty special, but there are now at least a several dozen "Golf Trails" situated around North America. That said, the Vancouver Island Golf Trail in Western British Columbia, Canada has to rank as one of the best!
Some trails are designed by one person so that the courses begin to look, feel, and play the same. Other ones have a wide variance in the quality and conditioning of courses, while others are designed to play so difficult that they essentially miss being fun for most of us. Some are dreadfully expensive or over-priced. The Vancouver Island Golf Trail of eleven courses at ten facilities has none of these shortcomings and what's more, there's plenty of fun to experience beyond the excellent golf.
Yes, I must also admit that I previously knew little about Vancouver Island other than glowing reports from my friends about Victoria. Because southern Vancouver Island has some of the balmiest weather in Canada, golf is played all year long though admittedly it's only suited to the hardy as opposed to the "fair weather golfer" during the late fall or winter months when a frost delay or short-lived dusting of snow might occur. And as for rain, the area receives about a third less than nearby Vancouver or Seattle.
Actually the Vancouver Island Golf Trail includes eleven courses at ten different facilities and I will be covering the ten that I experienced. My trek began in the urban area surrounding Victoria. This is a golf-rich community referred to as the Canadian Mediterranean. The Vancouver Island Golf Trail then proceeds up the Eastern Coast about half way up the Island or about a 3.5 hour auto ride in total. (The Island is about 7 hours drive length-wise from south to north. The West Coast draws tourists for its tempestuous weather though the golf courses are far fewer and apt to be of lessor quality.)
The Bear Mountain Golf Resort & Spa is the premium offering on Vancouver Island as defined by luxury and price,  and is its only 36-hole facility. Its modern onsite Westin Resort with adjoining spa makes staying in your lavish room and enjoying the first-class restaurant while only taking the elevator down to the golf shop and staging area an easy way to start any golf adventure. The golfing challenge is anything but docile, however. The Jack Nicklaus organization built both the Mountain and Valley Courses and the challenge together with the terrain is a bit more suited for the experienced or better golfer than it is the occasional one.
While the Bear Mountain Mountain Course commands perhaps the Island's most stunning vistas (13th green and 14th hole), I enjoyed the Valley Course just as much. The nice thing is that while Nicklaus designed both layouts, they are different with their own distinct looks and feel. The Mountain Course is more of the clean, refined look that you will find on Nicklaus resort layouts while the Valley Course features more rugged, rustic shaping and maintenance. Find the fairways and greens, however, and the conditions are superb on either. Because the terrain is quite severe at both courses (the Valley Course is far from flat!), carts are essential – and so is your camera!
Yes, premium defines Bear Mountain as it is the most expensive offering with the most spectacular views and newest hotel offerings onsite, but at around $130 including the cart, practice balls, and excellent service thrown in, it is still quite the good value when compared to other high-end locations elsewhere. Whether for buddy trips or a romantic getaway, Bear Mountain makes for a great stop or even a sage spot to anchor a Victoria golf vacation.
Only a few short miles down the hill from Bear Mountain is both Olympic View and Highland Pacific golf clubs. I count each as a "must-play" when in Victoria. Situated so close to downtown Victoria, it is amazing that both feel light years away as they so totally embrace their natural surrounds.
Olympic View is one of those simple, little layouts that is tasty enough at the start, but just gets more delicious as you consume your round. As I played the meadow holes on the front side, I mentioned to my host how much I enjoyed the golf course. Well, it got even better. As we weaved among the rolling, thickly forested terrain with all sorts of natural outcroppings, the challenges as well as the looks just kept getting better and better. By the end of the round, Olympic View had beckoned me to return as I loved the course – something that would be repeated several times during The Trail.
As I climbed in my car back up another hill to play Highland Pacific, I again had no idea what treat was in store for me. The opening hole was nice enough, but nothing special, but by the time I arrived on the dramatic back tee by the rocks and water on the par-five fourth hole, my camera was snapping, my heart pumping, and I was just a little bit disappointed in myself for not having been more informed about Highland Pacific as well as the three previous layouts I had just enjoyed. Again magnificent rock outcroppings and completely natural surrounds albeit on higher terrain greeted me on every hole. The conditioning, test, and ambiance had me gleefully registering Highland Pacific as another "favorite course." Honestly so far I could not pick a favorite course!
From Victoria, I headed north about 45 minutes along the coastal Trans-Canada Highway into the countryside of forests, meadows, wineries and farms. Arbutus Ridge would be my next stop. Quite frankly, the first hole did not impress me in that it was tightly squeezed between some housing to the left and a country road to the right and was preparing to lower my expectations, but then the course unwound into its more tranquil natural surrounds with 17 much better golf holes. Easily walkable, I found the course imminently playable, but far from easy or boring. Some holes were flat and seemed easy only to find a sloping putting surface while other holes were guarded by thick forests and demanded accuracy over distance. There is enough movement in the property to provide nice views and golf challenges, but the best view is the one from the dining area of the clubhouse to the north. Arbutus Ridge is a thoroughly enjoyable course and a club oozing with friendliness – easily be a place you or I could settle into.
Continuing further north, I encountered the Fairwinds Golf Club. This course is the centerpiece of an attractive housing development situated on a gorgeous spit of property down by the ocean. Fairwinds definitely qualifies as a "wolf in sheep's clothing." Power hitters had better scale back here on this wooded property or they will be calling the clubhouse for golfer's first-aid. Again featuring elevation changes and forested terrain for the most part, precision and accuracy are essential as the fairways have trouble and most of the greens are sloped and smallish. While most of the course is short if there is a tougher par-three on Vancouver Island that the 235-yard 13th, I have yet to play it.
If I'm starting to sound repetitious, it's because the standards of golf on the Vancouver Island Golf Trail just don't disappoint. Hunkering down at the wonderfully natural Tigh-Na-Mara Seaside Spa Resort and Conference Centre with its cozy rustic charm,  I could easily enjoy a host of other courses and other pursuits as well. Whether experiencing an English-inspired distillery that creates its wonderful concoctions based on apples at Merridale, hiking, exploring the trails, wineries, Tigh-Na-Mara makes for another excellent hub to center a host of activities.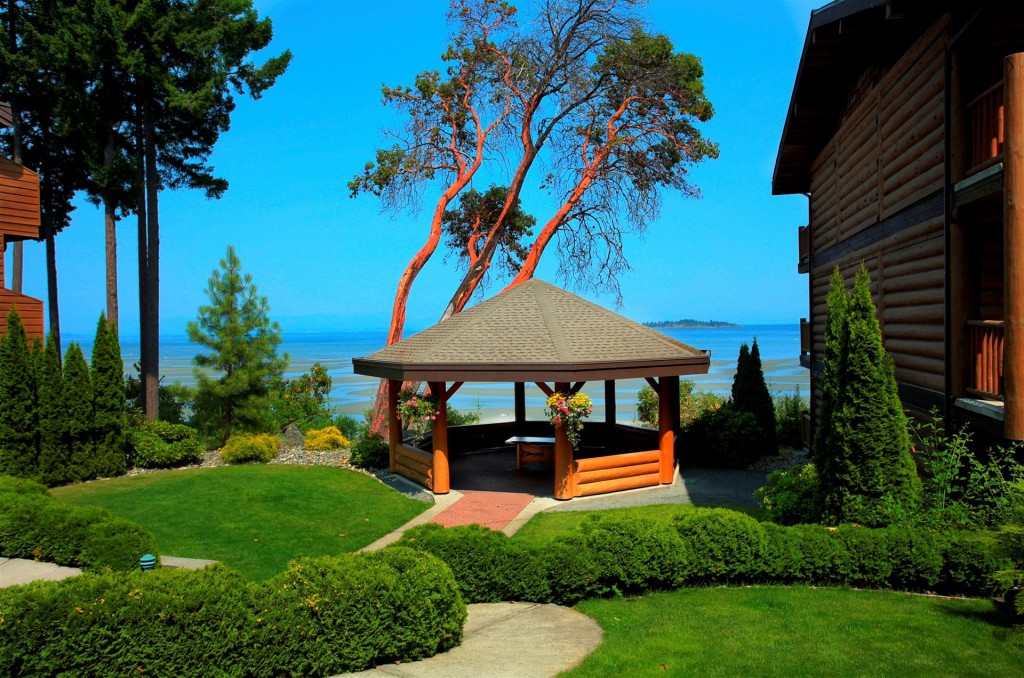 Tigh-Na-Mara Seaside Spa Resort and Conference Centre enjoys a dazzling location with an expansive beach. (Photo courtesy of Tign-Na-Mara Seaside Spa Resort and Conference Centre)
Continuing north I enjoyed the Pheasant Glen Golf Club. Again the delightful variety in golf courses was apparent. Pheasant Glen has hosted the Canadian Mid-Am as well as other regional events and is the tale of two looks. The course of two different looks, the outgoing nine is flat and built in what must have once been a marshy bog. It plays firm and fast and the engagingly quick putting surfaces hold the key to the challenge and scoring well here – I quite liked the challenge. Beginning on the par-five 10th, you retreat into thickly forested terrain for a nice change of pace. There are some huge putting surfaces with a couple much flatter than those on the front nine. As I will repeat, this another engaging course I would not tire of.
One might be apt to skip the little 9-hole Quadra Island Golf Club, but that would be most unfortunate. With either the beautiful Painter's Lodge in Campbell River or the April Point Resort & Spa on Quadra Island as attractive places to stay, you can as I did, enjoy salmon fishing in the morning and golf in the afternoon. Campbell River is considered "The Salmon Capital of the World" and it didn't disappoint courtesy of my native Canadian guide, Bear, and the Oak Bay Marine Group as I was able to hook far more fish than I could eat. Both lodges are owned and managed by the same entity and I could see myself enjoying both, but this trip only featured April Point. The April Point staff cooked my salmon and I can say unequivocally that it was the very best I've ever tasted! If I had had more time, I could have enjoyed the spa, tennis, watching for Orca whales, or venture out through the wilderness. And as an island, it is a perfect spot to simply relax!
And I enjoyed the Quadra Island Golf Club as well. First a complimentary 10-minute boat shuttle took me from Painter's Lodge to April Point. From there another free shuttle picked me up at my room and returned me there after playing golf. The course is the Island's newest and was built by locals with input from a professional golf course architect. While the facility lacks much of a infrastructure outside of portable toilets, it certainly doesn't lack for friendliness or great nine holes of golf. The layout has it all from views, elevations changes, challenging putting surfaces and surrounds, and fun.
By the time I reached the Storey Creek Golf Club, I had played eight of the eleven courses on the Vancouver Island Golf Trail and I was curious what if anything different I might find here. What I found was an inland inland golf course devoid of many of the spectacular views that each of the preceding courses enjoyed, but this was no ordinary golf course either. I count Storey Creek as one of the several best on Vancouver Island. As their motto goes Storey Creek is a "Course in Nature." This is your completely natural inland forested course that makes absolutely no attempt to be something it's not. There is no crazy mounding, contrived putting surfaces, or frills – just simple tradition wooded golf periodically visiting creeks and marshes . In my detailed article about Storey Creek, I began to define what a great finish it had until eventually I retraced the holes nearly back to the first. You will also find a nice, workable clubhouse, complete practice facilities, and friendly, attentive service here at Storey Creek. This what golf needs more of!
Mention the Crown Isle Golf Club, and the word "real estate" seemed to always come up and well as its convenient "location." That said, my last course on the Vancouver Island Golf Trail was more than a residential golf course. Yes, Crown Isle has homes bordering several holes, but it is far from intrusive. If anything, the boldly flashed bunkering intruded far more on my game while eleven lakes and views of the Beaufort mountain range proved delightful distractions. The strength of  Crown Isle is that it proved to be very playable yet was challenging enough to certainly keep my attention. The conditioning was excellent, and again the topic of  "excellent service" comes up as this is a full-service resort. I enjoyed delicious dining and a spacious modern suite only minutes from the first tee. Just a few minutes from the international Comox Airport, Crown Isle makes perfect sense as another hub from which to explore golf and other things around Vancouver Island's east coast.
My only regret was not being able to secure a game at the final golf course on the Vancouver Island Golf Trail, Cowichan Golf & Country Club. Word has it that it is a short, scenic, challenging course that expanded to 18-holes in 1985 and its par-four 11th hole rates as one of the Island's toughest.
A couple of enlightening things struck me about my trek on the Vancouver Island Golf Trail. There is a nice variety to the menu of courses as it's far from playing the same course ten or eleven times.  The weather is better than you probably had imagined, and the values are special, especially as the Canadian dollar is currently discounted as U.S. currency. All the golf courses were in excellent condition. And perhaps sometimes taken for granted, but never under-appreciated; the Canadian people and particularly those on Vancouver Island serving you are always so friendly and willing to help out in anyway possible.
When you add in all the diversity of fun activities including the world-class fishing together with the golf, Vancouver Island becomes an incredible playground. Put things all together and the Vancouver Island Golf Trail is rare delight and makes for every sort of golf excursion … and should be on every golfer's bucket list – never to be overlooked again!
P.S. One of the best pieces of the Vancouver Island Golf Trail is that this group can take care of all your travel arrangements from soup to nuts, tee times to car, reservations, etc. and the guarantee the lowest price! What's more they can put together a host of customized packages with other activities for whatever sort of traveler you are. Now if the Vancouver Island Golf Trail is not a gold medal winner, I don't know what is!
Bob Fagan features one of the most interesting backgrounds in travel and golf. Not only it is likely that Bob has played more American golf courses than any living person, he has been an accomplished player and instructor, holds a Ph.D. in Counseling, has been an innovative golf and life coach, PGA Section Executive Director, golf company executive, "Expert Golf Witness," and, of course, a highly acclaimed travel and golf writer.