Although much closer to France than they are to England, the Channel Islands are very English in character. The usual observation is that they closely resemble what England was like fifty years ago, which is meant as a compliment. Old-fashioned values such as good manners are evident everywhere, cars are driven less aggressively and the nostalgic presence of pound notes reinforces the timewarp effect.
Guernsey is such a hospitable place that it treats visitors much better than it does its own folk. For example, if you live on this delightful Channel Island you can't pay a green fee at the splendid Royal Guernsey Golf Club. You can wait a few years and try and join but can't simply turn up and play. Societies aren't wanted either. Visitors, on the other hand, are warmly welcomed. This somewhat strange situation is a consequence of the course's enormous popularity and the need to restrict numbers.
Indeed, the course is so popular it even has two clubs attached to it, the Royal Guernsey and the L'Ancresse, each with its own clubhouse. Although one might expect that sharing a course with another club is a recipe for war, this is Guernsey where courtesy rules and the two enjoy a friendly rivalry.
The professional shop belongs to the Royal Guernsey. Until quite recently the resident pro was Norman Wood, a Ryder Cup veteran who famously beat Lee Trevino in the singles in 1975.
Out on the course, with the wind inevitably whipping in from the Channel, the therapeutic benefits of a golfing holiday start to kick in. The sea views and broad fairways encourage you to breathe deeply and swing smoothly. But although links golf is undeniably magical, there are undoubted dangers lurking amongst the bumps and hollows at Royal Guernsey. Some, apparently, conceal human remains. Prehistoric man, burdened with cumbersome clubs and granite balls, and without the benefit of electric trolleys, clearly didn't always make it back to the clubhouse. Clusters of large stones indicate ancient burial grounds from which you can take relief without penalty.
Although I've played on courses with well-guarded greens before, here their defenses are formidable. Several Martello Towers and a scattering of pillboxes offer a level of protection rarely encountered these days. Clearly, Guernsey has borne witness to several fiercely contested confrontations, not all of which have been fought with woods, irons, putters and good humour.
There are one or two other hazards you should be aware of when playing Royal Guernsey. A couple of tee shots are hit across public roads. The secret of golf is timing and the trick here is to wait for a suitable gap in the traffic. In truth, the roads are not very busy so you shouldn't be delayed too long. The other slight problem is people. As the course is laid out on common land, walkers are entitled to wander about. In some parts of the world this might be a recipe for trouble, but in Guernsey it doesn't appear to worry anyone.
If London to Guernsey is a par three then Guernsey to Alderney is a chip and a putt. With just enough room for four fourballs (assuming the pilot plays), the three-engined Trislander looks like aviation's answer to the famous little French car, the deux cheveux. But, despite the absence of any movies or stewardesses, the flight recaptures the romance that has largely disappeared from modern air travel.
Alderney exudes charm, is uniquely different and provides an alternative for anyone who finds Guernsey too hectic. Although it measures only three miles by one-and-a-half miles, because it's home to fewer than two-and-a-half thousand inhabitants, there is plenty of room for a nine-hole course at Alderney Golf Club.
To be honest, there are plenty of finer courses but few that can provide a warmer welcome or more unforgettable round. With just a modest force five howling over the clifftops, I was indeed lucky to play it in such comparatively benign conditions. Others out at sea were less lucky and a stricken yacht was towed into harbour as I three-putted the sixth.
The Normandy coast is only eight miles away and can be seen clearly from about half of the holes. Among other things to look out for are black rabbits and blonde (yes, blonde), pink-nosed hedgehogs. With a litre of duty-free whisky only costing a fiver, pubs staying open from 10am until 12.30 the following morning and these spiky creatures only normally seen at night, it's easy to be sceptical. Puffins, guillemots and kittiwakes, however, provide a more plausible distraction. Whether or not you are lucky enough to spot a pink-nosed hedgehog, you are unlikely to forget Alderney, the flight over or the golf course. All provide a refreshing holiday experience that will live in your memory long after the final putt has been sunk.
However good your memory is, it's unlikely that you'll remember one of Jersey's favourite sons, the legendary Harry Vardon. It was a century ago that he was clinching the fourth of his record six Open titles. He was also the first Englishman to win the US Open but not the last from this pretty Channel Island as Ted Ray and Tony Jacklin won it in 1920 and 1970 respectively.
It could be the air, the cream or possibly the tomatoes that have helped the largest of the Channel Islands to produce such brilliant golfers, to which must be added the great Tommy Horton, who won four titles on the European Tour and finished number one on the European Senior Tour five times.
Another explanation is that Jersey is blessed, not only with enviably low income tax but also with some outstanding golf courses. Royal Jersey, where Horton was head professional, is one such magnificent links. With a statue of Vardon at the entrance and a stone commemorating Ted Ray on the 15th tee, the place is as steeped in history as the air is laden with the invigorating smell of the sea.
For most tee shots the recommended line is often a fort or mediaeval castle. Lower- handicappers take precise aim on a turret or keep, while higher-handicappers are generally less specific about their intended target. Even if your drive is somewhat wayward, there's a reasonable chance that a benign breeze will blow it back on line.
La Moye, perched 250 feet above beautiful St Ouen Bay, also benefits from a more or less constant wind that ensures that the course presents a new challenge each day. Perhaps the biggest challenge is to concentrate on your shot and not be too distracted by the spectacular views and pounding surf. Corbierre Lighthouse, La Rocco Tower and the tiny isles of Sark, Herm and Jethou are the landmarks to note on those rare moments when you're not worrying about which club to choose or what line to take.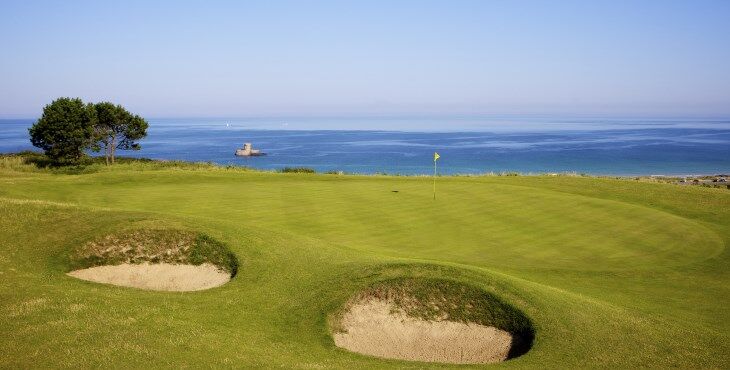 This is natural seaside golf at its absolute best with well-contoured greens, a generous sprinkling of strategically placed bunkers and gloriously springy turf. As you stroll up the 18th fairway towards the vast bowl that is the final green, it's easy to imagine past winners of the Jersey Open like Sandy Lyle, Tony Jacklin and Ian Woosnam acknowledging the applause. Woosie, by the way, is another who has made his home on this delightful island and is now a regular at La Moye. Find time to look round the clubhouse and the splendid views from the lounge over the course and out across the Channel.
Back down to sea level and almost directly below La Moye is Les Mielles Golf and Country Club. Only about 20 years old, this proprietary club may not be quite so steeped in history as its more illustrious neighbours, but it has already witnessed some remarkable golf. Playing the 252-yard par four 3rd hole in the 2002 Channel Islands Players Championship, Paul Simpson scored a two in the first round, a two in the second round and had a hole-in-one in the third and final round, leaving him seven under par for the hole. Your correspondent took precisely the same number of shots (five) playing the hole just once.
More believable, perhaps, is the story of another professional playing in the same competition who walked in halfway through his opening round having run out of balls. Water is an ever-present threat. Somewhat less threatening are the flocks of geese, ducks, swans and other wildfowl that wander about the fairways.
If this tight and demanding course leaves you somewhat stressed by the end of your round then be sure to unwind on the adjacent miniature course. Called "Breakers", it's crazy golf without the windmills. Instead, there are subtle borrows, fiendish hazards and nightmarish slopes that create an experience as agreeable as the Channel Islands themselves.
WHY WE LIKE IT
If you find the pace of life just a little too hectic at times then you will surely appreciate the Channel Islands. Okay, they are little old-fashioned but that's not necessarily a bad thing. And the golf courses are truly exceptional, which is surely one of the reasons that the Channel Islands has produced a disproportionate number of truly great players.