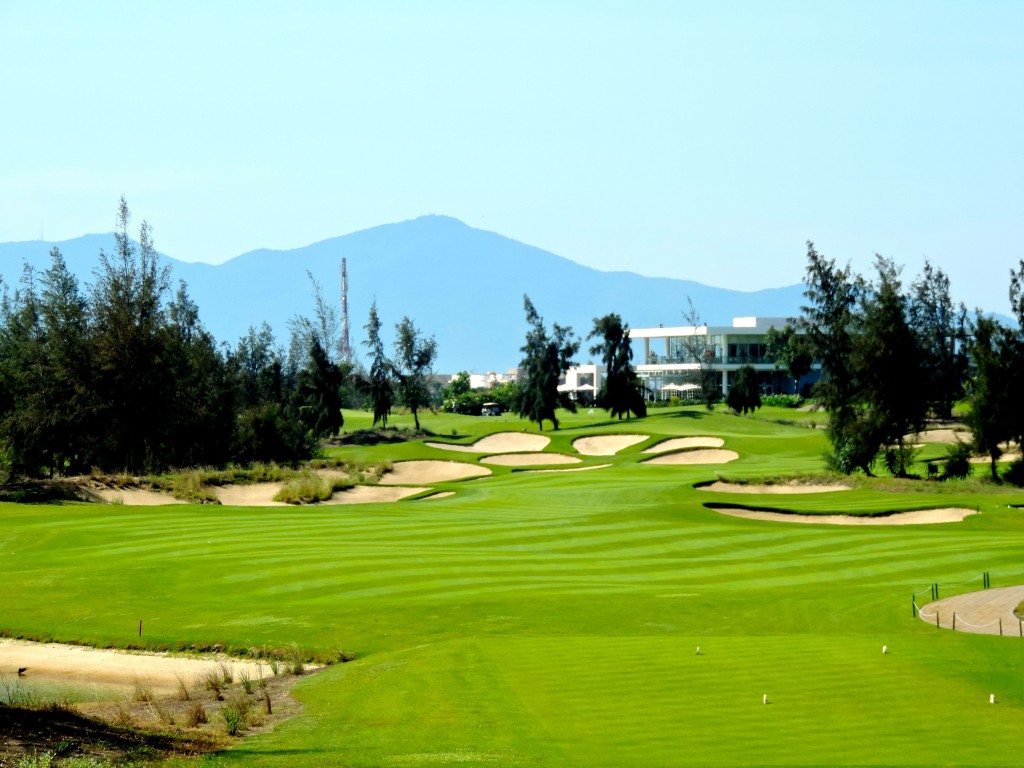 The Montgomerie Links is another of the three fabulous golf course in Denang that are worth the trip to play. That said, it is not a links layout, but rather a parkland one with lots of water, trees, and lush green grass. Located adjacent to the Danang Golf Club, the course is hardly a copy-cat of Norman's design, but IMG in-house architect Brit Stenson with input from Colin Montgomerie has created a course that is exceedingly picturesque and maybe even a shot or two more difficult than its neighbor.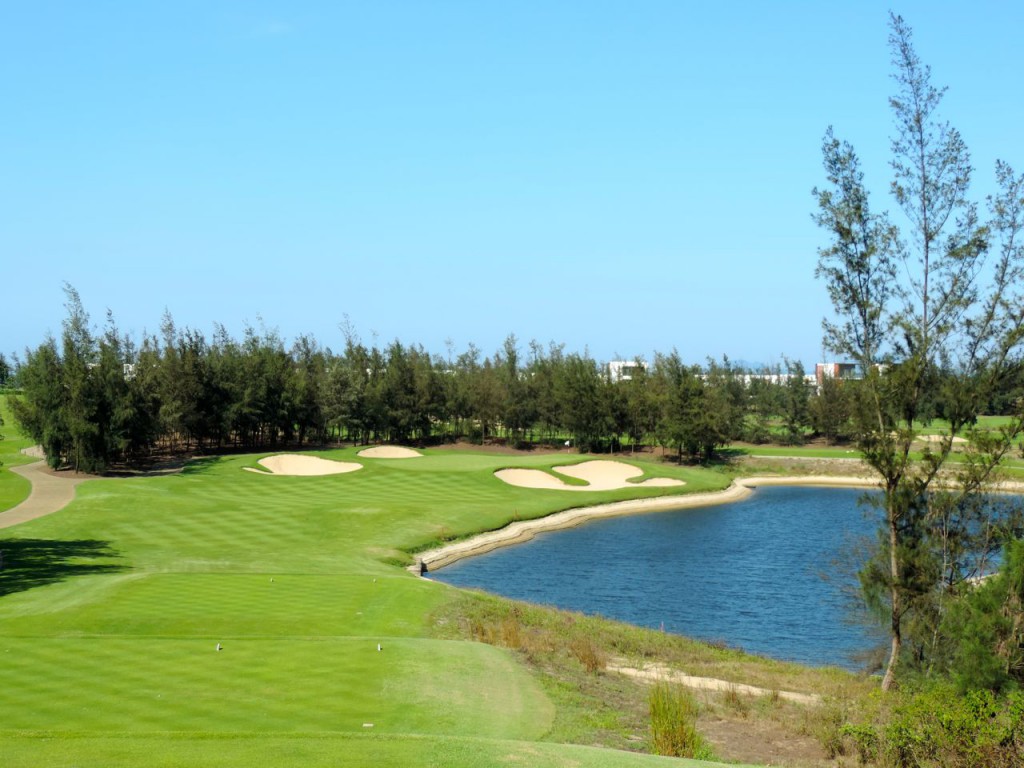 From the first tee through the 18th green, the challenge is as bold as the ever-present bright white bunkering. Trees and water also play a formidable role in a layout that is more reminiscent of a lush tropical layout in the American tradition of aerial golf. Accordingly the fairways give up less roll and the paspalum putting surfaces putt a bit slower than its neighbor Danang Golf Club, but they are hardly slow. Stenson has built lots of contour into the greens so hitting them in regulation is no guarantee of par. I count local knowledge more critical here than on most courses. Should the operators choose to grow in the rough and hide the flagsticks, this layout can be a real monster as evidenced by the difficult of the stretch from the 7th hole on. It is hard to pick a favorite hole on this photogenic layout!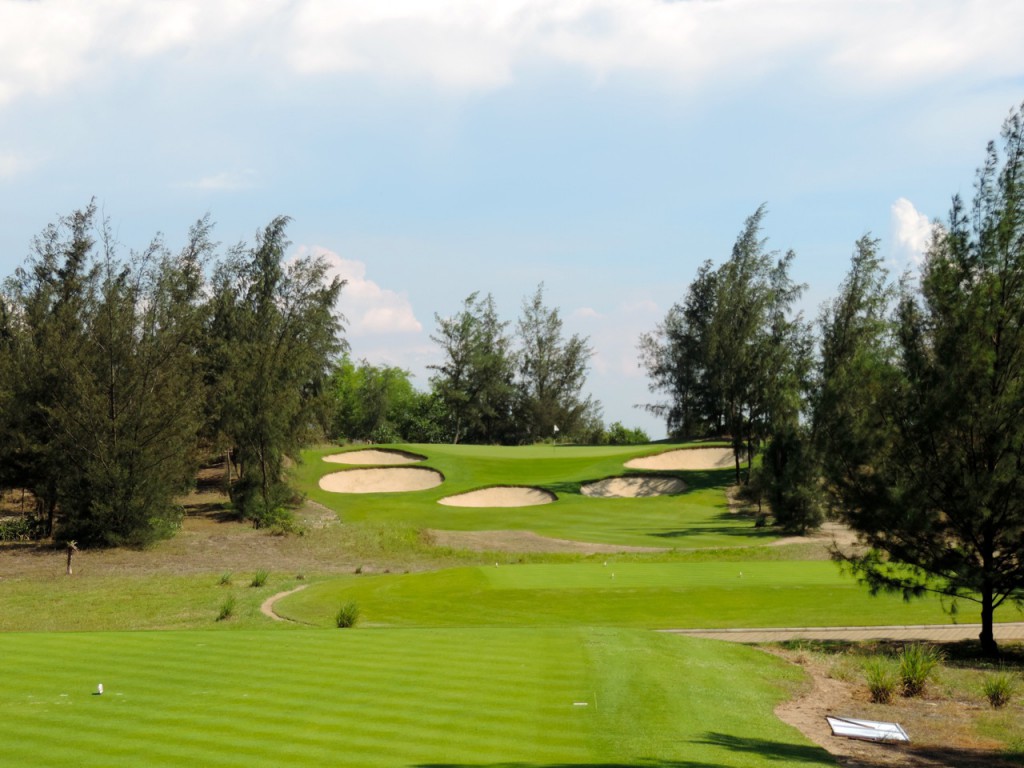 Arrangements for me in the Danang area were made for me by GolfAsian Vietnam and I highly recommend them. Check out:  www.golfasian.com. The Montgomerie Links is also part of the Vietnam Golf Coast consortium and to find out more, go to www.golfcoastvietnam.com.
Looking Over at the 15th Green From the 12th Fairway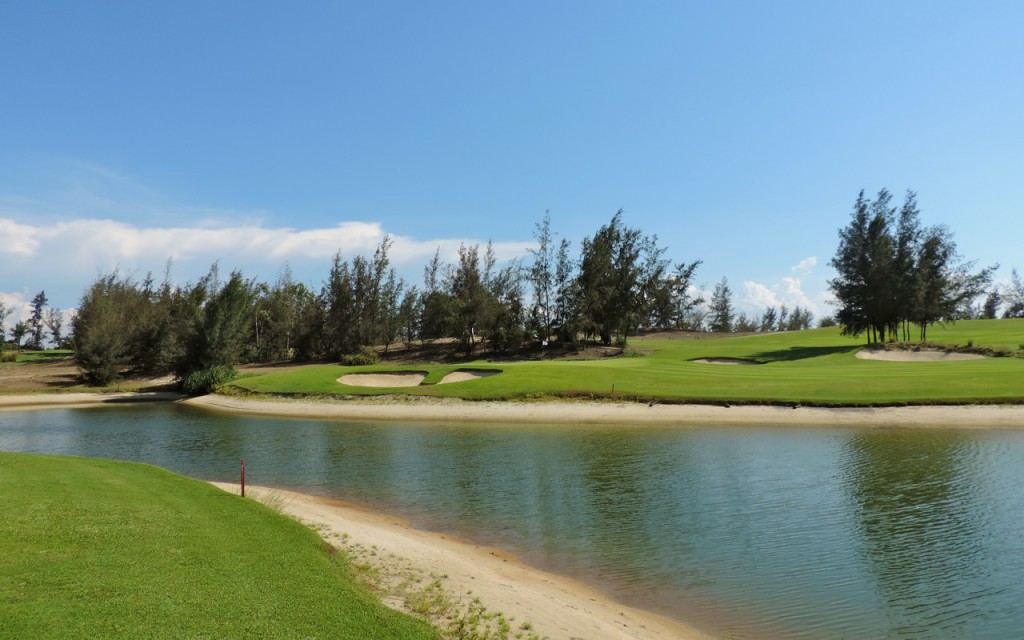 ---
Looking for an Exciting Vacation in Vietnam, Call our Friends at Golfasian: Asia's Best Golf Vacations!
For twenty years Golfasian has been regarded as the number one tour operator in Asia with countless awards from the travel industry to prove it. Through expert golf knowledge from their staff both on the ground and in their offices they create tailor-made golf itineraries that are perfectly suited to both individual and group preferences, following a philosophy of unique golf travel experiences as opposed to "run of the mill" golf vacations.
They partner with the top golf resorts, branded hotels and premium golf courses – all being carefully selected after rigorous screening. Best of all they regularly visit all of their courses to ensure that the maintenance and condition are in top order. We have personally experienced their hospitality and service and found it second to none. From the time our driver met us at the airport until the time we left everything was hassle free and flawless.
Check them out at www.golfasian.com for your most exciting golf vacation ever!
---
About Bob Fagan:
Bob Fagan features one of the most interesting backgrounds in golf. Not only it is likely that Bob has played more golf courses than any living person, he has been an accomplished player and instructor, innovative golf and life coach, PGA Section Executive Director, golf company executive, "Expert Golf Witness," and, of course, a highly acclaimed golf writer.