Ever since the birth of mass tourism back in the 1960s, the beautiful Mediterranean island of Majorca has been one of Europe's most popular holiday destinations. With its enviable climate, gorgeous scenery and glorious beaches it particularly appeals to sun-starved tourists, especially Britain and Germany.
Anxious to both go upmarket and extend the season, the tourist authority has always been keen on golf. The only area where golf could possibly conflict with the stated aims of Majorcan tourism is over environmental issues. The island is proud to have avoided the mistakes made on the Spanish mainland where unbridled development has irreparably damaged great lengths of coastline. But worries about scarce water resources have put golf courses under scrutiny.
They have responded by going to enormous lengths to demonstrate their genuine green credentials, protecting sensitive areas and introducing vigorous recycling programmes. Regarding water, they have reduced their consumption and switched to brackish and recycled water.
With the approval and support of the authorities, it's therefore unsurprising that golf has flourished and the number of courses has expanded so that there are nearly a couple dozen today.
Real Bendinat
No two courses on Majorca are more than about 40 miles apart but the largest concentration is in the south-west corner within easy striking distance of the capital, Palma. Real Bendinat is a particularly tough challenge and tight, tree-lined fairways put considerable emphasis on accuracy off the tee. With steep climbs and precipitous drops, this is not an ideal venue for the Vertigo Sufferers Golf Society, but the lovely lakes, flowing fountains and whispering waterfalls go some way to calming the nerves. However, the relief when the ball hits the fairway is almost as audible as the birdsong that permeates this immaculate venue.
Santa Ponsa
Three US Presidents have played at Santa Ponsa. Jimmy Carter, George Bush and Bill Clinton have all teed it up at this ravishing resort that boasts two 18-hole challenges and a nine-holer. Although only Santa Ponsa 1 is open to visitors, it is the most challenging of the three and has hosted the Balearic Islands Open on no fewer than six occasions. Seve Ballesteros triumphed here twice.
Son Muntaner
Rather less intimidating and set among the rolling hills just behind Palma is Son Muntaner, an exceedingly beautiful course with some wonderfully elevated tees and breath-taking views.
The last time I played it I bumped into movie star Michael Douglas, who was something of a regular. Despite the fact that the years are evidently catching up with him, he still has a bit of ground to make up on a magnificent olive tree by the 15th tee. Over 1000 years old. 'Sa Capitana' has witnessed a huge amount of history but now contents itself with watching golfers make their way around this enchanting course.
As mentioned above, great sensitivity is shown to the environment on Majorca's courses and the manicured fairways – which will switch next summer to Bermuda Celebration, considered an ideal variety of grass – are irrigated with recycled sewage. And there was I thinking it was putting that stank!
To fit in with the laudable environmental theme, visitors should decline a buggy and, although there are a few stiffish inclines, walk around this undulating parkland challenge and smell the fabulous flowers, at least some of which architect Kurt Rossknecht has ensured will be in bloom in whichever month you're there.
Maioris
Another German architect, Dieter Cabus, designed one of the newest courses on the island, Maioris. Just west of Palma, it is a great deal tougher than it might at first appear. The pine, olive and carob trees that are dotted about don't look all that menacing but they certainly tighten up what appears at first glance to be moderately open. And there's even the odd tree on the fairway. A scratch golfer I played alongside took on the trees and boldly attempted to cut a few of corners but sadly came a cropper more than once.
There's a fair bit of water, including four lakes, a teasing island green and plenty of bunkering, but what makes the course a particularly tricky proposition is the speed and subtle contouring of the greens. Accept you are going to have the odd three-putt and you will certainly enjoy this extremely welcome addition to the island's repertoire of outstanding courses.
Son Vida is Majorca's oldest and arguably most prestigious club. Totally renovated a while back, it is now in great shape. With some fabulous adjacent properties and glorious views of the Sierra Tramuntana and Palma Bay, it is easy to be distracted from the often testing task of keeping out of the trees.
Another Majorcan "veteran" – and one that has hosted a number of top events – is Golf de Poniente. Clearly worthy of the honour, it contains plenty of pine and olive groves, suffers no shortage of water hazards (there are seven lakes) and is over 7000 yards off the back. Players should avoid hooking off the first tee as they will find – or, rather, not find – their ball among several thousand others on the driving range. The clubhouse, which is built in the style of a Majorcan manor house, is well worth snooping around.
For golfers, there is something irresistibly appealing about opening the bedroom curtains in the morning to gaze upon a golf course. To have two courses attached to your hotel simply doubles the pleasure. To the south-east of Palma and on the way to the airport, the Son Antem Golf Resort and Spa is blessed with an East Course, over which the sun rises, and a West Course, below which it sinks.
Son Antem
Although the East is easier, they are both pretty challenging, in excellent condition and a pleasure to play. They are also walker-friendly with gentle hills that render a buggy redundant for all but the injured, infirm or terminally lazy.
While the East has the more generous fairways, the West has larger greens and contoured mounds either side of the fairways to bounce the ball back towards the middle. If, however, they fail so to do, the chances are that the next shot will be played from either a difficult lie with an awkward stance or, worse still, from behind a bush or tree.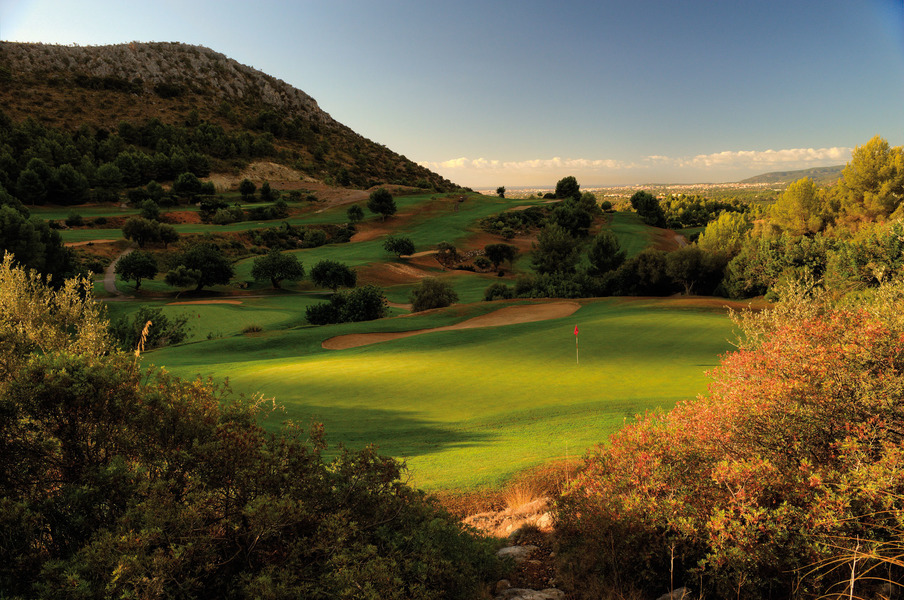 Son Termens
Opened in May 1998, Son Termens is a stunningly beautiful course just 10kms to the north of Palma. Built on a former hunting estate in the hills, the peaceful surrounding countryside and panoramic views make this an unforgettable experience. The magnificent greens are well protected by a combination of bunkers and ravines and the course is ranked among the most ecological in Majorca.
Vall d'Or
Although they are spread further apart, there are plenty more splendid courses to be found in the north and east of the island.  Right on the east coast and somewhat isolated from the others is Vall d'Or. Like most sports, golf can sometimes be a game of two halves and this course, which contains two quite contrasting nines, provides an example of this phenomenon. The outward stretch is an exhilarating rollercoaster ride around the mountains, which puts a premium on both accuracy and oxygen. Particularly thrilling is the downhill par five third, which almost justifies the green fee on its own. The back nine is altogether more open and should ensure your heart-rate drops before you unwind on the delightful terrace with a drink or two.
Pollensa
Perhaps the most spectacular terrace view is at Pollensa, the most northerly course on the island and about 30 miles from Palma. This gem of a nine-holer is uncrowded, charming and extremely pretty. It weaves through olive groves and almond trees in a delightfully unpretentious way. Although the holes look straightforward, there are enough water hazards, walls, vast bunkers and specimen trees in and around the fairways to concentrate the mind. In fact, knowing the dangers helps make the second "round" even more enjoyable. And then there's the terrace!
One of four courses clustered on the north east corner of the island, Canyamel has sensitively retained many of the characteristic features that enable a course to develop its own personality. A little uninhabited house on the ninth, for example, has been preserved as have a series of typical dry stone walls on the seventh and 13th, 14th and 15th. The front nine is regarded as the tougher half with the fifth providing particularly splendid views across to Minorca.  The second nine is longer and flatter but every bit as enjoyable.
WHY WE LIKE IT
Majorca is really one of the loveliest places on earth on which to play golf. Although it can get rather hot in July and August and it does occasionally rain in winter, the climate is close to ideal. And the fact that there are so many top quality courses scattered about means you are never far from an enjoyable round. Even though they may not have swung a club whilst there, Princess Grace of Monaco, Brigitte Bardot, King Faisal, Yasser Arafat, Julio Iglesias and Mikael Gorbachev have all stayed at the magnificent Castillo Hotel Son Vida. It's right in the midst of a cluster of courses and is highly recommended.