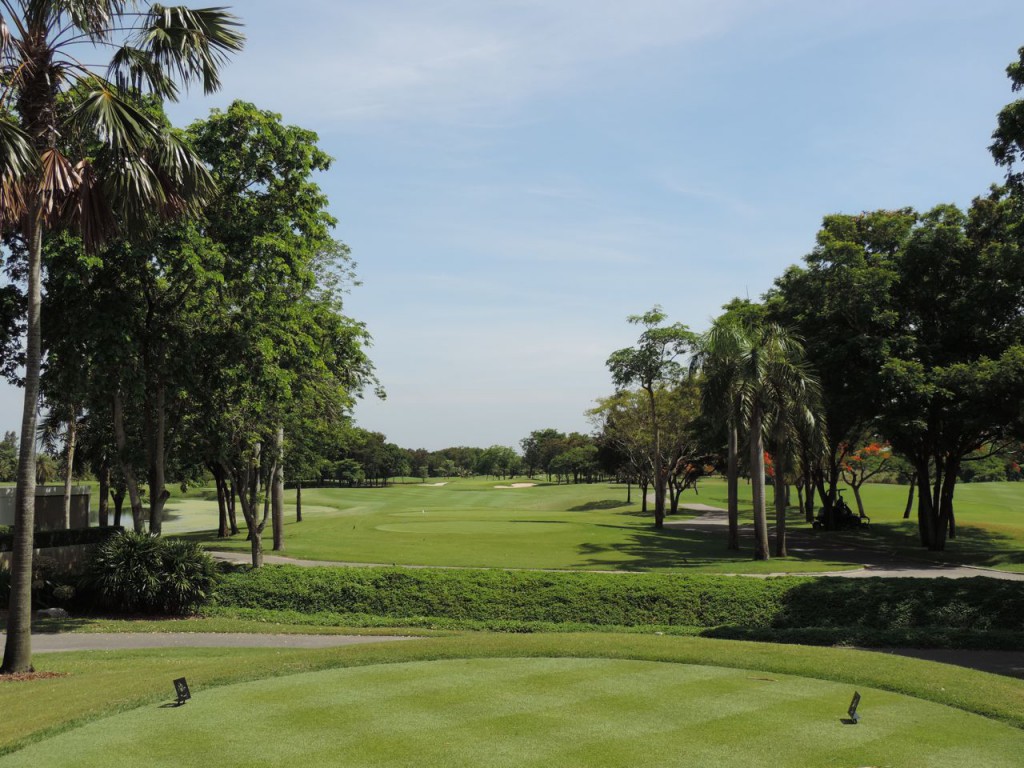 The attractive first tee shot at Lotus Valley sets the tone for an enjoyable round. (Photo by Robert S. Fagan)
The Lotus Valley Golf Resort sits about an hour's drive east of Bangkok. You would never just happen upon it if you didn't have explicit directions to the facility. As such, however, its secluded location affords it a nice rural location with no housing, businesses, or noise anywhere near it. It's peaceful and calming, and its golf course mirrors that ambiance.
The Gary Player organization built the course in 1998 and it has since been redesigned (reshaped and lengthened)  in 2008 by Jon Morrow and Craig Bertram. The property is flat and the course designers made no overt effort to transform the land. Rather they left it pretty much alone with the exception of extensive "cuts and fills" where they dig out ground to form lakes and use the fill for mounding. Much as in the Florida style of golf courses, the shaping at Lotus Valley is gentle rather than stark mounding and bunkers are used liberally to establish the visual challenges.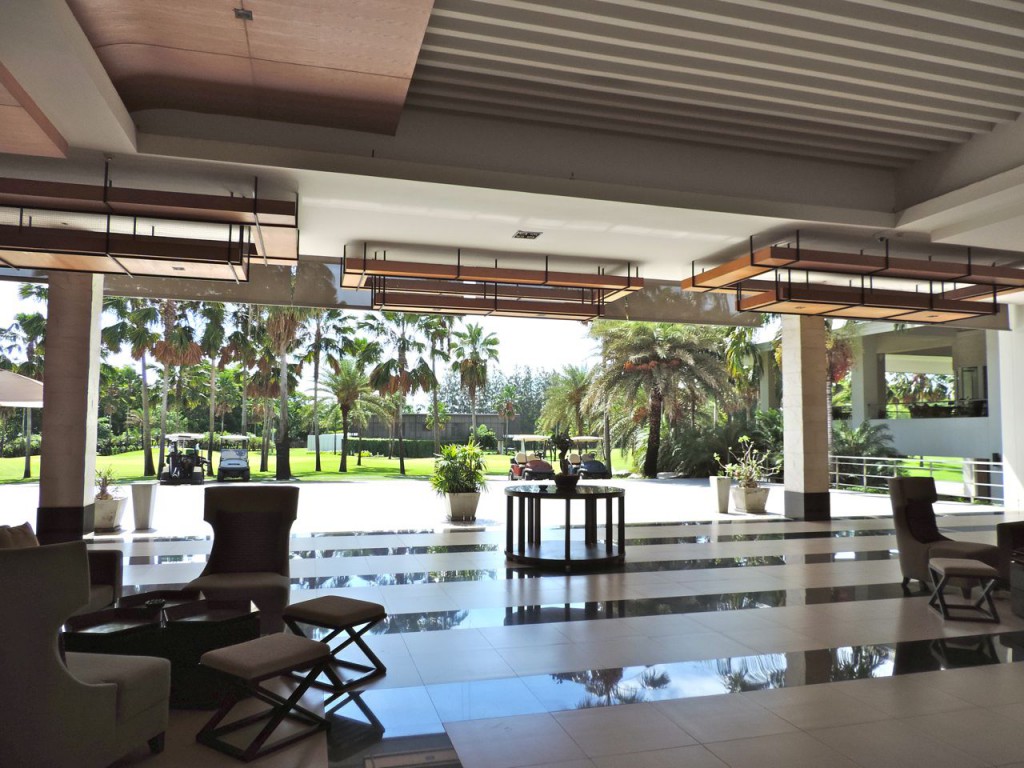 Open air spaces are typical in many Thailand clubhouses. (Photo by Robert S. Fagan)
As you enter the property, you are greeted by the modern, comfortable clubhouse with its many amenities and that feeling of quiet, comfortable, and peaceful ambiance extends right onto the golf course. From the tips, the golf course measures an ample 7,015 yards, hardly any pushover. It is, however, eminently playable, but water lurks off to the sides of many shots. There is a nice movement to the greens and enough bunkering to also get and keep your attention.
Speaking of attention, the first hole that particularly got mine was the 309-yard 5th hole. It is a risk-reward hole that is drivable for longer hitters, but features lots of bunkers and water to the left. The 208-yard 8th hole is another picturesque beauty over water to a putting surface positioned above some rockwork.  Perhaps my favorite hole is the 340-yard tenth that winds around the water to the left. Positioning off the tee is critical and sets up a birdie provided you can negotiate the sharply sloped green.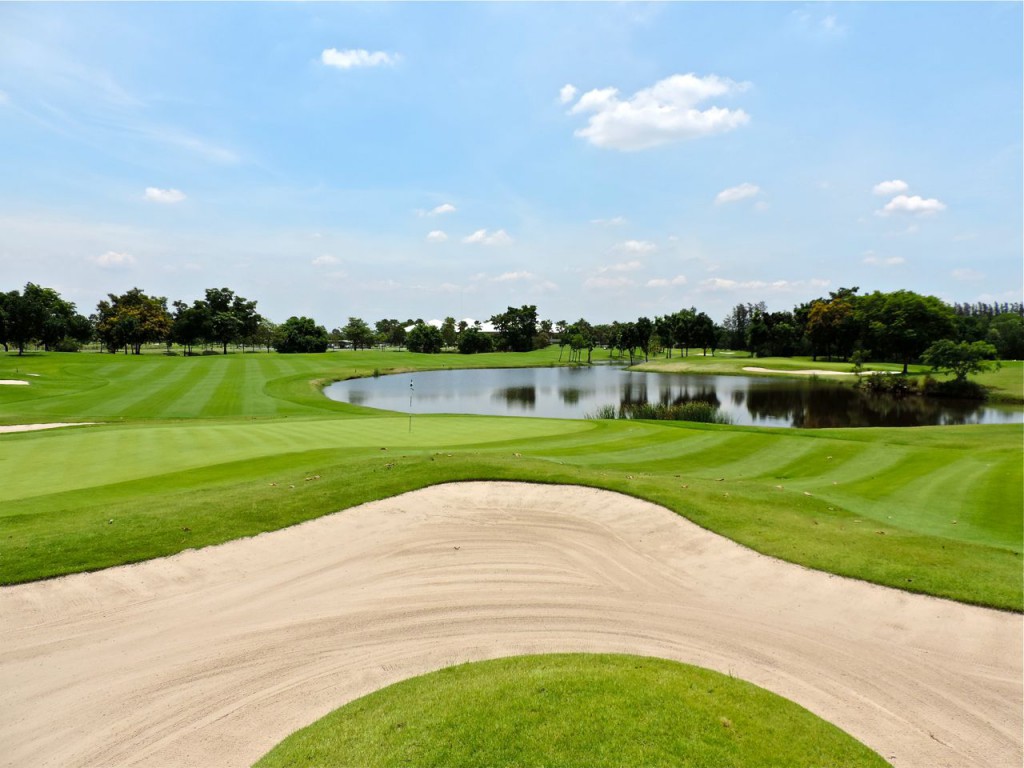 Looking back from behind the green on the par-four 10th hole at Lotus Valley. (Photo by Robert S. Fagan)
As you proceed around the golf course, you will enjoy the lushness of the green turf as well as the absence of noise or the busy Bangkok hustle and bustle. There is nothing too difficult about any one hole though you will enjoy a strong sense of satisfaction if you can par the 456-yard par-four 13th. And the 597-yard finishing hole is nothing to take for granted either (show in picture below). All in all, when you combine the nice peaceful ambiance, the artfully designed golf course, and the comfortable amenities, the Lotus Valley Golf Resort is a short trip worth the while.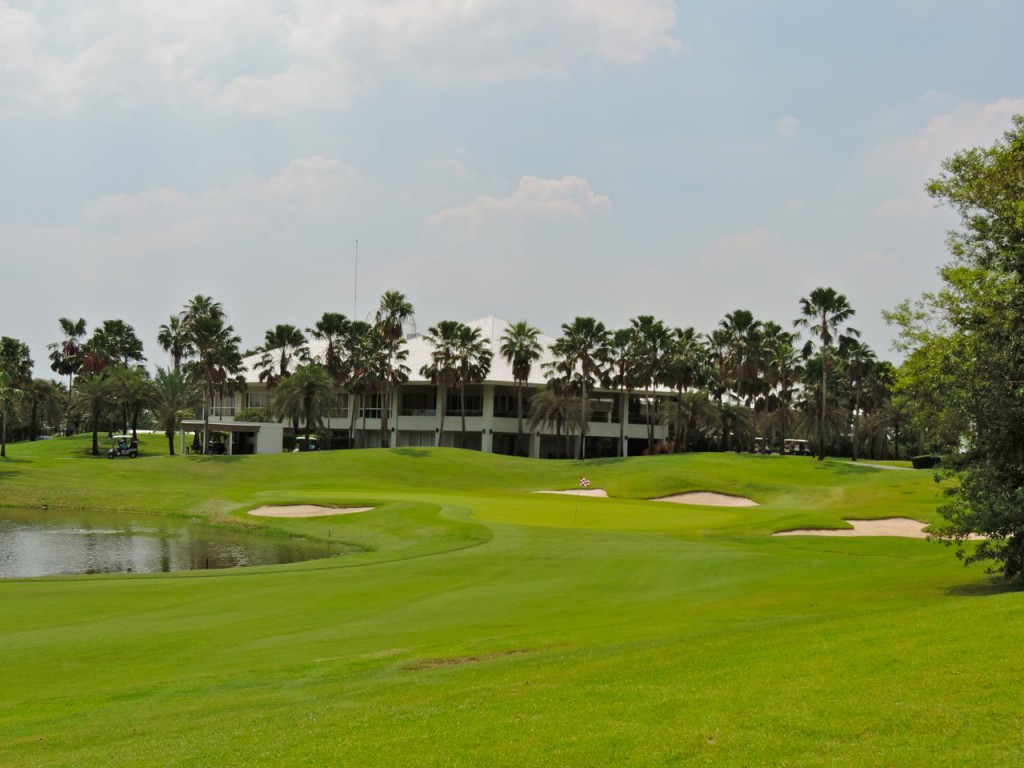 The water on the par-five 18th hole can pose a challenging finish at Lotus Valley. (Photo by Robert S. Fagan)
---
Looking for an Exciting Vacation in Thailand, Call our Friends at Golfasian: Asia's Best Golf Vacations!
For twenty years Golfasian has been regarded as the number one tour operator in Asia with countless awards from the travel industry to prove it. Through expert golf knowledge from their staff both on the ground and in their offices they create tailor-made golf itineraries that are perfectly suited to both individual and group preferences, following a philosophy of unique golf travel experiences as opposed to "run of the mill" golf vacations.
They partner with the top golf resorts, branded hotels and premium golf courses – all being carefully selected after rigorous screening. Best of all they regularly visit all of their courses to ensure that the maintenance and condition are in top order. We have personally experienced their hospitality and service and found it second to none. From the time our driver met us at the airport until the time we left everything was hassle free and flawless.
Check them out at www.golfasian.com for your most exciting golf vacation ever!
---
About Bob Fagan: 
Bob Fagan features one of the most interesting backgrounds in golf. Not only it is likely that Bob has played more golf courses than any living person, he has been an accomplished player and instructor, innovative golf and life coach, PGA Section Executive Director, golf company executive, "Expert Golf Witness," and, of course, a highly acclaimed golf writer.