Canada has four times as many left-handed golfers as does its neighbour, the USA. On average, there is one southpaw in ever other fourball. The explanation is simply that young Canadian men play ice hockey with ambidextrous sticks, which allow them to hit either way. Having developed a preference for one side or the other, when these young men grow up and ditch ice-hockey in favour of an altogether more sensible game, golf, they know which way round they want to stand.
Coincidentally, it was a consortium of professional ice hockey players who pooled their frozen assets to build the incredible resort course called Bear Mountain, not far from the delightful waterside city of Victoria on Vancouver Island, British Columbia. This is as far west as Canada goes and the area benefits from the mild influence of the Pacific Ocean. Hence it is the only region in the country where golf can be played throughout the year.
With a name like Bear Mountain there could be only one designer, Jack Nicklaus, the Great Bear himself. With a reputation for not letting mighty outcrops stand in his way, Nicklaus has clearly blasted away thousands of tons of rock in order to build the course he wanted. This is not natural golf territory.  What has been created is an exhilarating helter-skelter of a course which, although it may not please the purists, will provide thousands with enormously enjoyable and entertaining rounds of golf.
Buggies are rightly compulsory for even the delightful deer struggle up some of the inter-hole tracks. The GPS system fitted to the buggies has a great many whistles and bells and provides considerably more information than simply the distance to the bunkers, pin, etc. For example, there are quite a few blind shots where the GPS screen indicates where and how far away all the other buggies are, so you know when it's safe to hit.
There's a button to press if you have left a club behind. So don't go back and hold up play, as a marshal will deliver it to you. Neither must you drive your buggy over environmentally sensitive areas. If you do, the engine cuts out. You will then be obliged to alert air traffic control who, after administering a mild rebuke, will allow you to continue.
All good fun.  The holes themselves are fun, too, carved as they are through man-made canyons. None more so than the par five 14th that zig-zags up the mountainside and then treats you to a breathtaking view of Victoria, the sea and seemingly half of Vancouver Island from the top. Perhaps the stick should carry the Maple Leaf flag as you feel as if you've just ascended Canada's highest mountain. Before starting your descent there's another piece of entertaining nonsense – a 19th hole! It's a short par three where you either hit the green or say goodbye to your ball.
Another course on Vancouver Island that weaves its way around the rocks – but with a far more traditional feel – is Olympic View. It also has the considerable advantage in that it can comfortably be walked. Precision rather than power is the principal requirement and the driver won't come out of the bag very often. Irons off the tee are the smart call on a high proportion of the par fours. Even the par fives can't be overpowered as anything wayward is severely punished either by the inhospitable rocky woodlands that fringe most of the holes or the many water hazards that come in a rich variety of forms from modest pond, through impressive lake to stunning waterfall. The sensible thing to do is carefully plot your way round.
Even a succession of lost balls won't spoil your enjoyment of this gorgeous course. Simply take a lungful of the fresh pine air, a glance around at the stunning scenery and appreciate the visual feast.
After a pleasant ferry ride back over to the mainland, it's only a short drive to Furry Creek. First impressions are very important and the spectacularly elevated opening tee gives you a heavy hint as to what lies ahead. Like many of the tee-shots which follow on later, it will be struck with an iron in the hope – in my case forlorn – of finding the fairway, which is a vertigo-inducing 165-feet below.  Hold on, because what follows is an exhilarating roller-coaster ride around the mountain.
Don't be fooled either by the cuddly sounding name. Furry Creek is a swift-flowing stream that plunges down the mountainside, carving out deep gorges and rocky ravines that slice through the tree-lined fairways to create a tricky challenge, which demands precision, patience and plenty of golf balls.
Used as a location in that goofy golf film "Happy Gilmore", the course clings to the mountainside with a perfect, if precarious, balance of three par threes, three par fours and three par fives on each nine. Half the par fives are under 475 yards off the regular men's tees but are definite three-shotters because drives over 200 yards will end in tears.
Irons off the tee are almost mandatory as you plot your way with a succession of sensible lay up shots. If your tee-shots are too timid and too short, the prudent policy might be to swallow your pride and lay up again rather than give another ball to the gorge. If, however, it does disappear into the bowels of the earth, there is some small consolation in the fact that it will eventually be retrieved, sold and the proceeds given to charity.
With an almost audible sigh of relief you will eventually come back down to sea level and onto a coastal strip that begins at the signature par three 14th. This final stretch is both very pretty and a great deal less hazardous off the tee. There is, however, one more perilous climb to the 18th green before you can at last relax and enjoy the wonderful views from the stunning clubhouse.
After three rounds in the mountains, it was a refreshing change to dispense with a buggy, stretch the legs and actually walk for 18 holes. Big Sky is an ideal course to rediscover the often forgotten art of putting one foot in front of the each because it's essentially very flat and the turf is quite beautifully springy, rather like the best links' courses. Big Sky is not next to the sea, however, but is instead half an hour's drive from the famous Whistler ski resort.
It's built on the glaciated valley floor not far from the seemingly vertical 8300 foot high Mount Currie, which provides a dramatic backdrop to this delightfully pretty course against which it is both easy and thrilling to follow the flight of a soaring golf ball. A river borders the course, a stream bisects it, ditches abound and there are lakes and ponds everywhere, which made me wonder if Big Splash would have been a more appropriate name for this excellent facility and it's not difficult to understand why it regularly features in the various lists that are compiled of outstanding and favourite courses.
With bent grass everywhere, it's like a playing on a giant green. And for those who like long putts, the Texas wedge can be deployed to good effect from most spots around the official putting surface, especially the distinctive run-off areas on the side of most greens. But beware the very real danger that your ball will roll all the way back to your feet if your putt fails to make it to the raised green.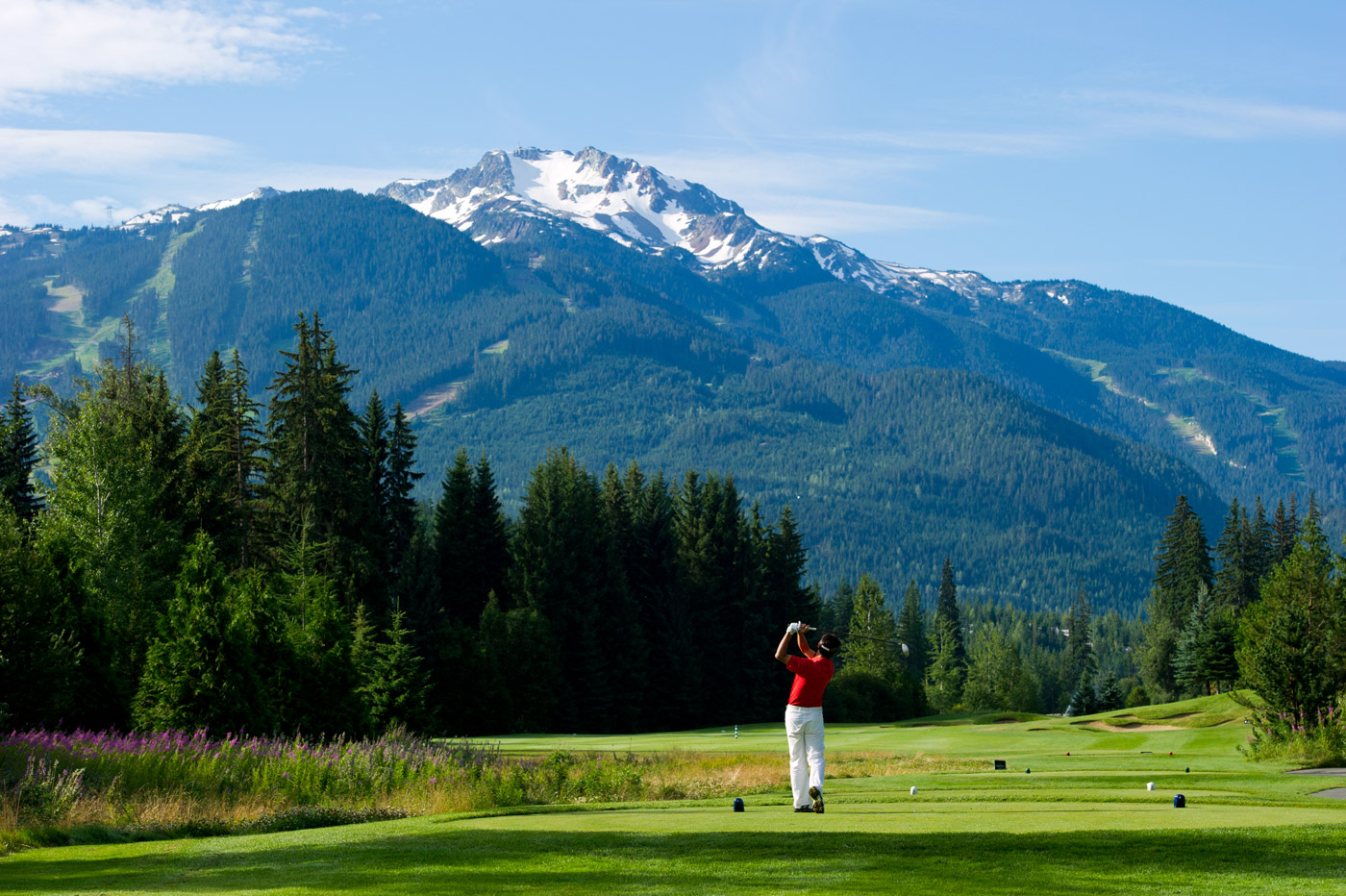 Another great walking course presented in immaculate condition is Nicklaus North. On the fringe of Whistler Village and in the shadow of the ski slopes, it's a five-star facility clearly aimed at the top end of the golfing market. Everything about it is classy, even the luxurious houses that abut the first and last few fairways.
Opened 10 years ago, it is apparently the only course in the world to bear, if that's the word, the great man's name. With a distinctly parkland feel and many of the fairways fringed with towering pines, it is both joyously pretty and a truly demanding test of golf. The teeing grounds are huge and with five sets of tee markers to choose from, you can make stretch the course to not far short of 7000 yards or shrink it to just under 5500 yards.
As befits a signature course – that is one that Jack actively worked on himself and is happy to put his name to – the signature hole, the 17th, is a fiendishly tough par three that stretches out into the adjacent lake.
Just a short drive from Nicklaus North is Chateau Whistler. Designed by Robert Trent Jones Jnr, this magnificent mountain challenge is an exhilarating thrill from the opening uphill drive to the final downhill putt. Unlike many other mountain courses, Chateau Whistler never cramps or crowds you. The fairways are wonderfully wide and inviting while the adjacent pines are close enough to concentrate the mind without being too intimidating.
There isn't a weak hole and with spectacular views seemingly on every elevated tee and raised green, Chateau Whistler leaves you wonderfully breathless despite the help of the essential buggy, which takes you over 400 feet up the mountain, along perilous ledges, over ravines, next to waterfalls and close to vertical rock faces. Despite all that, there's no need to feel nervous or at risk. And from the golfing perspective, there are no tricks or travesties, for this is an exceptionally fair course where the hazards are clearly visible and where good shots are properly rewarded. A simply wonderful course that is impossible to fault. My only disappointment was that no bears came out to play on the day I was there.
WHY WE LIKE IT
British Columbia is a wonderfully pretty province that is blessed with both exceptional scenery and a comparatively temperate climate. There is a great range of challenges from courses next to the ocean to others way up in the mountains. And if you happened to be a southpaw, there's no shortage of left-handed clubs in the pro shop to either rent or buy.